2020 NPSO Annual Meeting Cancelled

Due to the COVID-19 pandemic, and in the best interests for the health and safety of our members, the Cheahmill Chapter has decided to cancel the Annual Meeting this year. While the number of new cases should decline over the next several weeks and months, subsequent waves of COVID-19 are likely to recur once social distancing is relaxed. We are exploring hosting the meeting next year (2021) at Spirit Mountain Lodge and offering much the same program.

If you have already sent in your registration form and payment, your checks will be shredded. Those whose checks were already deposited will receive a refund.

We look forward to seeing all of you in 2021, hopefully at Spirit Mountain. Please stay safe and healthy through this difficult time.
NPSO 2020 Annual Meeting
May 29 - 31 Spirit Mountain Lodge, Grand Ronde, Oregon
Field Trips
Saturday May 30, 2020 9 a.m. - 4 p.m. Field Trip # 29
Camp Westwind - Upland

Photo: Kareen Sturgeon
Cascade Head as seen from High Meadow at Camp Westwind
Difficulty: Moderate (0.5 mile) - Steep trail to meadow. Optional beach hike, easy, about 0.5 mile.
Elevation: 360 feet elevation gain
Group Size Limit: 12, maximum of 3 vehicles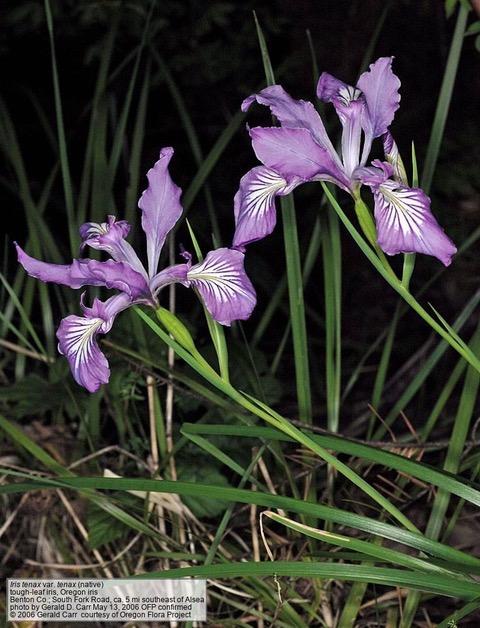 Photo: Courtesy of Oregon Flora Project
Oregon iris (Iris tenax) grows on coastal prairie at High Meadow
Trip Description: One of two field trips to this spectacular site, this hike involves a short, but steep, hike through the rainforest to Lost Lake and High Meadow, to Lost Lake and High Meadow followed by a visit to the beach, dunes, and dune forest.
Nestled between two basalt headlands (Cascade Head to the north and High Meadow to the south), Camp Westwind sits in a beautiful bay beside the Salmon River Estuary. This 529-acre camp was founded in 1936 and is now owned by the Westwind Stewardship Group whose mission is to permanently protect the site as an educational retreat and camp.
The site harbors a wide diversity of habitats and flora: a forest of Sitka spruce (Picea sitchensis), Douglas fir (Pseudotsuga menziesii), western hemlock (Tsuga heterophylla) and Pacific rhododendron (Rhododendron macrophyllum); and a prairie overlooking the ocean, with Oregon iris (Iris tenax) and hairy stemmed checkermallow (Sidalcea hirtipes).
The beach hike includes an extensive beach with both yellow and pink sandverbena (Abronia latifolia and A. umbellata var. breviflora, which is state listed as endangered and federally listed as a species of concern); dunes with American dunegrass (Leymus mollis) and European beachgrass (Ammophila arenaria); a forest on older, now stabilized, dunes with shore pine (Pinus contorta var. contorta) and an understory of rattlesnake plantain (Goodyera oblongifolia) and false lily-of-the-valley (Maianthemum dilatatum); dramatic cliffsides with Bolander's packera (Packera bolanderi var. bolanderi), Tracy's mistmaiden (Romanzoffia tracyi), and Oregon stonecrop (Sedum oreganum).
Appropriate Clothing and Footwear: Suitable for hiking on a steep trail: hiking poles recommended.
Special Considerations: Gated entrance, accessible to public only with prior arrangements. The coast can be cold and windy even in summer.
Meeting Place and Time: Trip # 29 leaves at 9 a.m. from Spirit Mountain Lodge entrance. Plan to arrive 30 minutes before departure time to meet your group and arrange carpools.
Alternate Meeting: Participants may also meet the trip at 9:20 a.m at gated entrance to the Camp, 7500 N Fraser Road, Otis, Oregon. If you choose this option, be sure to notify your trip leader in advance.


Driving Miles and Time from Spirit Mountain Lodge: 22 miles, 20 minutes, last 2.5 miles on narrow but good gravel road.
Driving Directions: Trip leader will provide detailed driving instructions.
Leader: Bruce Waugh
Bruce Waugh, Corvallis Chapter.
Plant Lists and Other Information: Clink on the links below for more information about this trip.

Hairy stemmed checker mallow (Sidalcea hirtipes) grows on High Meadow
Photo: Kareen Sturgeon
Reflections in Lost Lake on the High Meadow Trail
Photo: Kareen Sturgeon
High Meadow as seen from the Camp Westwind beach, with largehead sedge (Carex macrocephala)